NOVACLOX-LB Capsules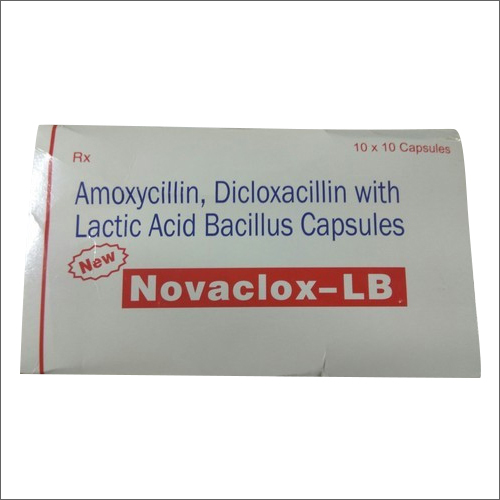 NOVACLOX-LB Capsules
Price And Quantity
Product Specifications
Product Description
Novaclox-LB Capsule is a prescription medicine. It is advised to take it as per the prescription. It can be taken with or without food, but it must be taken at a fixed time to ensure better efficacy. Do not consume more than the recommended dose, as this may have harmful effects on your body. If you miss a dose, take it as soon as you remember. The course of the treatment must be completed even if you feel better. Sudden discontinuation of the treatment may affect the potency of the medicine.

Some common side effects of this medicine are nausea, vomiting, diarrhea, indigestion, etc. If any of the side effects get aggravated, you must consult your doctor immediately. If you experience any allergic reaction (rashes, itching, swelling, shortness of breath, etc.), you must seek immediate medical help.

Before taking this medicine, you should tell your doctor if you are taking any medicines for any health condition. Pregnant or breastfeeding women should also consult with their doctor before taking it. Avoid drinking alcohol as it can cause excessive drowsiness with this medicine. It usually does not impair your ability to drive, but you should not drive if it makes you feel sleepy or dizzy. You must take adequate rest for a faster recovery, also take a healthy diet and drink plenty of water. Your doctor may ask for a few laboratory and diagnostic tests to know the effects of the medicine on your body.


USES OF NOVACLOX-LB CAPSULE
bacterial infection


BENEFITS OF NOVACLOX-LB CAPSULE
In Bacterial infections
Novaclox-LB Capsule is a medicine that helps to kill the bacteria that cause different infections and treats your infection. It also contains beneficial bacteria that protect the inner layers of your stomach and intestines. This medicine can relieve frequent loose motions and also help you to stay well by preventing them from coming back. It usually makes you feel better within a few days, but you should continue taking it as prescribed even when you feel better to make sure that all bacteria are killed and do not become resistant.


SIDE EFFECTS OF NOVACLOX-LB CAPSULE
Most side effects do not require any medical attention and disappear as your body adjusts to the medicine. Consult your doctor if they persist or if youre worried about them
Common side effects of Novaclox-LB
Rash
Vomiting
Allergic reaction
Stomach pain
Nausea
Flatulence
Diarrhea


HOW TO USE NOVACLOX-LB CAPSULE
Take this medicine in the dose and duration as advised by your doctor. Novaclox-LB Capsule may be taken with or without food, but it is better to take it at a fixed time.


HOW NOVACLOX-LB CAPSULE WORKS
Novaclox-LB Capsule is a combination of three medicines: Amoxycillin, Dicloxacillin, and Lactobacillus. Amoxycillin and Dicloxacillin are antibiotics which work by preventing the formation of the bacterial protective covering that is essential for the survival of bacteria in the human body. Together, they eradicate your infection effectively. Lactobacillus is a live microorganism which restores the balance of good bacteria in the intestine that may get upset with antibiotic use or due to intestinal infections.
Contact Us
S N 309, Third Floor, Opp. Shreedhar Flora, Amar Jawan Circle, Nikol, Ahmedabad, Gujarat, 382350, India
Phone :+918045812301