Lignocad Gel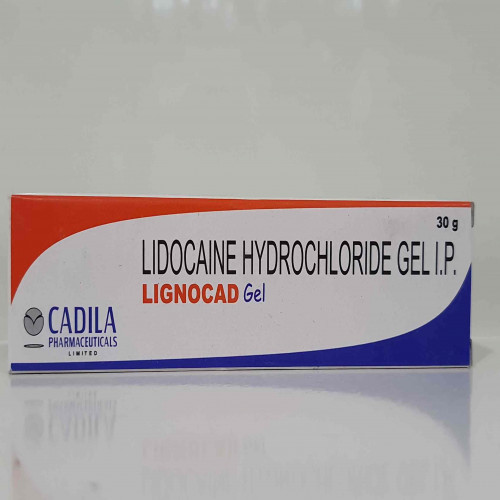 Lignocad Gel
Product Description
The most common side effects of this medicine include redness, rash, burning, and itching at the site of application. These are usually mild and short-lived. Consult your doctor if any of the side effects persist or worry you.

Before using it, tell your doctor if you have liver disease or are taking medicines for heart rhythm problems. Although medicines used on the skin are not normally affected by other medicines you should let your doctor know if you are taking any other medicines to be safe. Ask your healthcare team for advice if you are pregnant or breastfeeding.


USES OF LIGNOCAD GEL
Local anesthesia (Numb tissues in a specific area)


BENEFITS OF LIGNOCAD GEL
In Local anesthesia (Numb tissues in a specific area)
Lignocad Gel is a local anesthetic. It makes your skin numb. As a gel or cream, it can be used to relieve pain, irritation, or itching caused by a wide variety of conditions. It is generally very safe, works quite quickly, and will reduce the discomfort that might be caused by an injection, having a drip (cannula) put into your skin or a small cosmetic or other surgical procedure.

It is also used in procedures requiring the insertion of a tube into your mouth, nose, anus (proctoscopy) or bladder (cystoscopy) can be uncomfortable and even painful. Lidocaine can be applied to the surface of the tube before it is inserted. This will both lubricate the tube and give an anesthetic effect, making the procedure more comfortable.


SIDE EFFECTS OF LIGNOCAD GEL
Most side effects do not require any medical attention and disappear as your body adjusts to the medicine. Consult your doctor if they persist or if youre worried about them
Common side effects of Lignocad
Allergic reaction
Application site reactions (burning, irritation, itching and redness)


HOW TO USE LIGNOCAD GEL
This medicine is for external use only. Use it in the dose and duration as advised by your doctor. Check the label for directions before use. Clean and dry the affected area and apply the gel. Wash your hands after applying, unless hands are the affected area.


HOW LIGNOCAD GEL WORKS
Lignocad Gel is a local anesthetic. It works on the skin by blocking pain signals from the nerves to brain. This numbs the area and decreases pain sensation.
Contact Us
S N 309, Third Floor, Opp. Shreedhar Flora, Amar Jawan Circle, Nikol, Ahmedabad, Gujarat, 382350, India
Phone :+918045812301