Cadixim Oral Suspension IP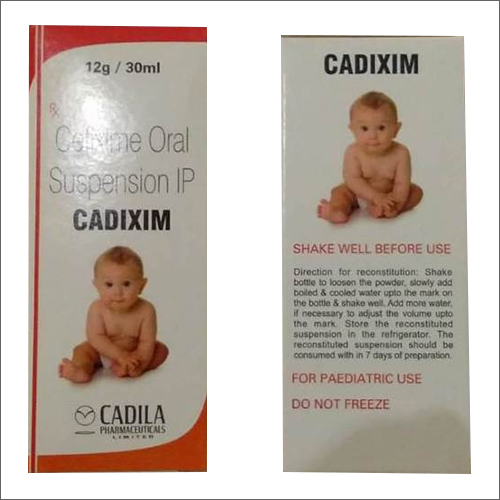 Cadixim Oral Suspension IP
Price And Quantity
Product Specifications
Product Description
Cadixim Oral Suspension is best given an hour before or two hours after meals as that ensures better absorption. In case your child develops a stomach upset, prefer giving it with meals. The dose and duration depend upon the type and severity of the infection, so stick to the dose, time, and way prescribed by the doctor. If your child vomits within 30 minutes of the intake, give the same dose again but do not double dose if it's the time for the next dose.

Do not give this medicine to your child in case of cold and flu symptoms as they are usually caused by viruses, and antibiotics dont treat viral infections. Doctors prescribe this medicine for cough and cold only when they detect any underlying secondary bacterial infection.

This medicine may have some minor and temporary side effects such as vomiting, diarrhea, nausea, abdominal pain, and allergy. Usually, these episodes subside once your childs body adapts to the medicine. However, if these side effects persist or become bothersome for your child, report to the doctor without any delay.

Narrate your childs complete medical history to your childs doctor, including any previous episode of allergy, heart problem, blood disorder, birth defects, airway obstruction, lung anomaly, gastrointestinal problem, skin disorder, liver impairment, and kidney malfunction. This information is critical for dose alterations and for planning your childs overall treatment.


USES OF CADIXIM ORAL SUSPENSION IN CHILDREN
Treatment of bacterial infections
Treatment of typhoid fever
BENEFITS OF CADIXIM ORAL SUSPENSION FOR YOUR CHILD
In Treatment of Bacterial infections
Cadixim Oral Suspension is an antibiotic medicine given to children for the treatment of a wide range of bacterial infections including bacterial Pneumonia, a very common condition in children. This medicine inhibits the growth of infection-causing bacteria by stopping it from multiplying. Usually, your childs infection will start showing improvement within 3 to 5 days of the regular dosing. However, you must finish the full course of the medicine and never stop it abruptly by yourself as that may worsen your childs condition or cause infection recurrence.
In Treatment of Typhoid fever
Typhoid fever is an infection that spreads through the intake of contaminated food and water. Children with typhoid fever requiring no serious medical attention can be well managed with Cadixim Oral Suspension at home because of its excellent activity against organisms causing typhoid fever.
Show Less


SIDE EFFECTS OF CADIXIM ORAL SUSPENSION IN CHILDREN
Cadixim Oral Suspension does not pose serious side effects and is well-tolerated by children. In case the side effects do occur, theyre likely to subside once the body adapts to the medicine. Consult your childs doctor if these side effects persist or bother your child. The most common side effects include-
Common side effects of Cadixim
Nausea
Vomiting
Abdominal pain
Diarrhea
Allergy


HOW CAN I GIVE CADIXIM ORAL SUSPENSION TO MY CHILD?
Take this medicine in the dose and duration as advised by your doctor. Check the label for directions before use. Measure it with a measuring cup and take it by mouth. Shake well before use. Cadixim Oral Suspension may be taken with or without food, but it is better to take it at a fixed time.


HOW CADIXIM ORAL SUSPENSION WORKS
Cadixim Oral Suspension is an antibiotic. It works by preventing the formation of the bacterial protective covering (cell wall) which is essential for the survival of the bacteria. By doing so, this medicine stops the infection-causing bacteria from growing further and prevents the infection from spreading without making them resistant to further treatment.
Contact Us
S N 309, Third Floor, Opp. Shreedhar Flora, Amar Jawan Circle, Nikol, Ahmedabad, Gujarat, 382350, India
Phone :+918045812301