Amino Mix Novum Parental Injection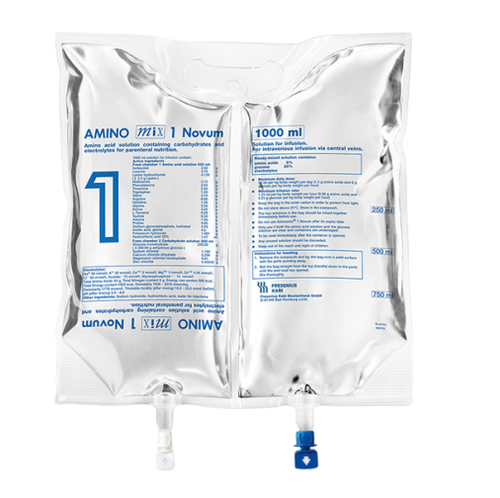 Amino Mix Novum Parental Injection
Price And Quantity
Product Specifications
Other Types

Nutritional Supplement
Product Description
1. Aminomix Novum is a standardized parenteral nutrition formula, designed to meet the daily nutritional requirements of nitrogen (amino acids), glucose, electrolytes and fluid in adult and paediatric patients (>2 yrs) in whom oral or enteral feeding is impossible, insufficient or contraindicated.
2. With its high content of amino acids (50 g per liter) Aminomix Novum suits even the elevated nitrogen requirements of intensive care patients. Total calories provided by Aminomix Novum is 1000kcal.
3. Aminomix Novum contains taurine, which is supposable conditionally essential in critical illness1, trauma2 and sepsis3.
4. The Aminomix Novum nutrition regimen may be complemented by adding a lipid emulsion of choice - in amounts as needed. This allows to flexibly adjust the glucose: lipid ratio of non-protein energy, depending on the individual glucose tolerance of the patient.
5. Aminomix Novum for patients with high energy requirements, good glucose tolerance and normal electrolyte balance. (After mixing: 5% amino acids, 20% glucose and the complete electrolyte spectrum)
6. Container: Aminomix Novum formula is available in infusion bags in (1000 ml). The bag may be stored at room temperature for up to 24 months.
7. Aminomix provides zinc and organic glycerol phosphate.
Benefits
Two Chamber Bags (2 CBs) are designed to provide parenteral nutrition admixtures with glucose and amino acids via central administration for primarily adult patients.
Amino acids and glucose with and without electrolytes are stored in 2 separate compartments of a plastic bag (2 CB) which is of benefit for the shelf life of the product.
Shortly before administration the seals will be opened and the two solutions are mixed.
2 CBs are convenient and safe in handling, providing the flexibility to make additions such as lipid emulsions, trace elements and vitamins. Their variety of nutritional regimens can be used for a wide range of metabolic conditions.
Compared to 3 CBs the 2 CBs provide the flexibility to add different lipids.
The 2 CB concept has some advantages :
It provides flexibility to add varying types and amounts of lipid emulsions according to the patients needs, the physicians preference and product availability. However, the gain in flexibility results in less convenience compared to 3 CBs. e.g. in case a reduced lipid supply is an option, in case of a continuous sedation with propofol
Zinc improves the wound healing is essential for immunity and is needed for a positive nitrogen balance
The supply of electrolytes within the formulation of Aminomix Novum gives the possibility to reduce the number of manipulations
Indications
A standard parenteral nutrition preparation is adequate for the majority of patients who need intravenous feeding e.g. after surgery or trauma, patients with sepsis, gastrointestinal disease or short bowel syndrome, during cancer treatment and in many other clinical situations.
Packaging/Dosage
Adults (including the elderly) and adolescents older than 14 years of age
Unless otherwise prescribed,
20 ml per kg bodyweight per day
= 1 g amino acid and 4 g glucose/kg bodyweight per day
= 1400 ml/day in a patient weighing 70 kg.
Children and adolescents less than 14 years of age
Daily dose for children 2 years and older and less than 5 years of age:
25ml/kg body weight ~ 1.25 g amino acids and 5 g glucose/kg body weight/day
Daily dose for children 5 years and older and less than 14 years of age:
20ml/kg body weight ~ 1 g amino acids and 4 g glucose/kg body weight/day
Contact Us
S N 309, Third Floor, Opp. Shreedhar Flora, Amar Jawan Circle, Nikol, Ahmedabad, Gujarat, 382350, India
Phone :+918045812301