60mg Falciart Injection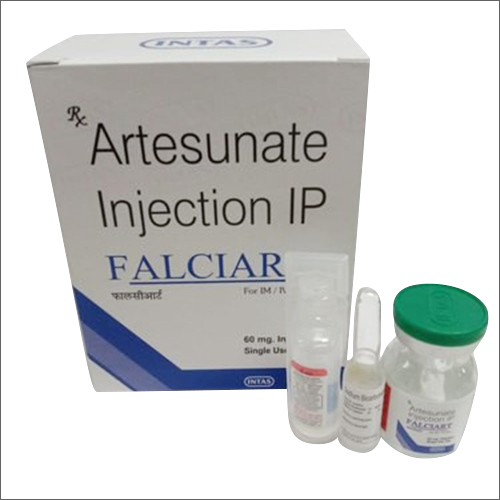 60mg Falciart Injection
Price And Quantity
Product Specifications
Product Description
Falciart 60mg Injection is administered as an injection by a healthcare professional. Kindly do not self-administer. It is given in cases where oral administration is not possible.

Some people may experience a headache, dizziness, weakness, and loss of appetite, as the side effects of this medicine. You may also notice some injection site reactions like pain, swelling, or redness. Please consult your doctor if these side effects persist for a longer duration. You may be monitored with blood tests once a week for 4 weeks to detect the presence of malarial parasites.


USES OF FALCIART INJECTION
malaria


BENEFITS OF FALCIART INJECTION
In Malaria
Falciart 60mg Injection is an antimalarial medicine and is used alone or with other medications to treat malaria (a serious or life-threatening illness that is spread by a parasite that enters the human body by the bite of infected mosquitoes). This medicine is given by a doctor or nurse and should not be self-administered. Refrain from taking any other medicines or antacids along with this medicine (unless advised by the doctor) as they may affect the absorption of this medicine. Do not use this medicine for treating any other condition without consulting your doctor.


SIDE EFFECTS OF FALCIART INJECTION
Most side effects do not require any medical attention and disappear as your body adjusts to the medicine. Consult your doctor if they persist or if youre worried about them
Common side effects of Falciart
Headache
Dizziness
Weakness
Loss of appetite
Injection site reactions (pain, swelling, redness)


HOW TO USE FALCIART INJECTION
Your doctor or nurse will give you this medicine. Kindly do not self administer.


HOW FALCIART INJECTION WORKS
Falciart 60mg Injection is an antiparasitic medication. It works by producing harmful chemicals (free radicals) within the malarial parasite, thereby killing it.
Contact Us
S N 309, Third Floor, Opp. Shreedhar Flora, Amar Jawan Circle, Nikol, Ahmedabad, Gujarat, 382350, India
Phone :+918045812301