50 mg Ambisome Injection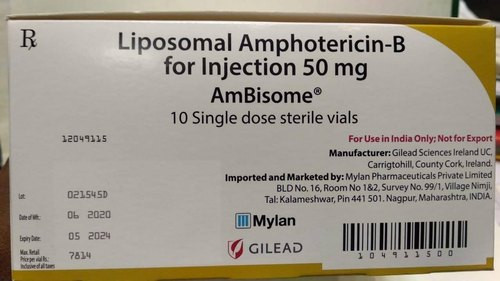 50 mg Ambisome Injection
Price And Quantity
Product Specifications
Other Types

Fungal Infections
Product Description
Ambisome Injection is generally administered by a doctor or a nurse. You should not self-administer this medicine at home. The dose and duration of the treatment will depend on the severity of your condition. You should get the injection as long as your doctor has prescribed it.

The most common side effects of this medicine are decreased potassium level in the blood, nausea, vomiting, chills, and fever. Consult your doctor if these side effects persist for a longer duration or get worse. They may be able to suggest ways to prevent or reduce the side effects.

To make sure it is safe for you, before using this medicine, let your doctor know if you have any preexisting medical conditions or if you are taking any other medicines. Let your doctor also know if you are pregnant or breastfeeding, as it may cause harmful effects to the developing baby.
USES OF AMBISOME INJECTION
Treatment of Severe fungal infections
Treatment of Leishmaniasis.
BENEFITS OF AMBISOME INJECTION
In Treatment of Severe fungal infections
Ambisome Injection works by killing the fungi which can cause serious infections. It is given by a doctor or nurse and should not be self-administered. It usually makes you feel better very quickly but you should continue taking it as prescribed even when you feel better to make sure that all the fungi and yeast causing the infection are killed and do not become resistant.
In Treatment of Leishmaniasis.
Ambisome Injection is an antibiotic medicine and is used to treat Leishmaniasis, also called kala-azar, a serious or life-threatening illness that is spread by a parasite that enters the human body by the bite of infected sand flies. It kills the infection causing parasite and stops further spread of the infection. This medicine is given by a doctor or nurse and should not be self-administered. Refrain from taking any other medicines along with this medicine (unless advised by the doctor) as they may affect the absorption of this medicine. Do not use this medicine for treating any other condition without consulting your doctor.
SIDE EFFECTS OF AMBISOME INJECTION
Most side effects do not require any medical attention and disappear as your body adjusts to the medicine. Consult your doctor if they persist or if youre worried about them
Common side effects of Ambisome
Decreased potassium level in blood
Nausea
Vomiting
Chills
Fever
HOW TO USE AMBISOME INJECTION
Your doctor or nurse will give you this medicine. Kindly do not self administer.
HOW AMBISOME INJECTION WORKS
Ambisome Injection is an antifungal medication. It kills fungi by destroying the fungal cell membrane.
Contact Us
S N 309, Third Floor, Opp. Shreedhar Flora, Amar Jawan Circle, Nikol, Ahmedabad, Gujarat, 382350, India
Phone :+918045812301