20mg Temoside Capsules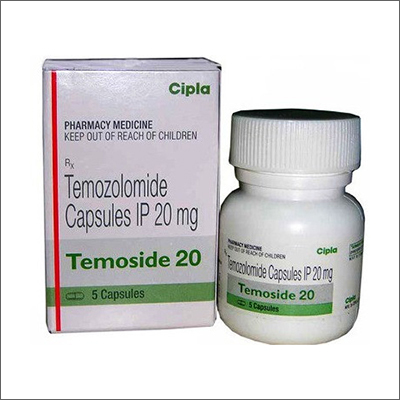 20mg Temoside Capsules
Product Description
Temoside 20 Capsule should be taken empty stomach and at same time each day to make sure it has the best effect. Your doctor will decide what dose is necessary and how often you need to take it. This will depend on what you are being treated for and may change from time to time. You should take it exactly as your doctor has advised. Taking it in the wrong way or taking too much can cause very serious side effects. It may take several weeks or months for you to see or feel the benefits but do not stop taking it unless your doctor tells you to.
USES OF TEMOSIDE CAPSULE
Brain tumor
BENEFITS OF TEMOSIDE CAPSULE
In Brain tumor
Brain tumor is an abnormal mass or collection of cells that may be cancerous (malignant) or non-cancerous (benign). Temoside 20 Capsule kills or stops the growth of cancer cells and also prevents the multiplication of cancer cells. It is a potent and very toxic medicine and you should discuss the risks and benefits with your doctor. You should avoid drinking alcohol while having this treatment and drink plenty of water to stay hydrated.
SIDE EFFECTS OF TEMOSIDE CAPSULE
Most side effects do not require any medical attention and disappear as your body adjusts to the medicine. Consult your doctor if they persist or if youre worried about them
Common side effects of Temoside
Nausea
Vomiting
Constipation
Headache
Fatigue
Convulsion
Coordination disorder
Diarrhea
Dizziness
Fever
Hair loss
Hemiparesis (weakness on one side of the body)
Insomnia (difficulty in sleeping)
Loss of appetite
Memory loss
Rash
Viral infection
Weakness
HOW TO USE TEMOSIDE CAPSULE
Take this medicine in the dose and duration as advised by your doctor. Temoside 20 Capsule is to be taken empty stomach.
HOW TEMOSIDE CAPSULE WORKS
Temoside 20 Capsule is an anti-cancer medication. It enters the brain tissues and works by damaging the genetic material (DNA and RNA) of the cancer cells. This stops their growth and multiplication
Contact Us
S N 309, Third Floor, Opp. Shreedhar Flora, Amar Jawan Circle, Nikol, Ahmedabad, Gujarat, 382350, India
Phone :+918045812301