100mg Thalitero Capsules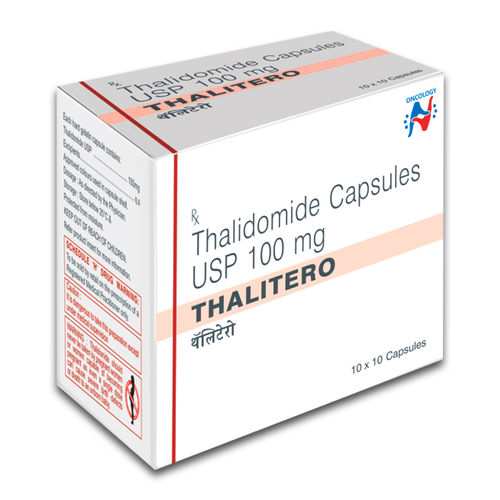 100mg Thalitero Capsules
Product Description
Multiple myeloma is a type of cancer which affects a certain type of the white blood cell, called plasma cell. These cells collect in bone marrow and divide out of control. This can damage the bone and kidneys. Multiple myeloma generally cannot be cured. However, the symptoms can be greatly reduced or disappear for a period. This is called a remission.
Always take THALITERO exactly as prescribed by your doctor. Do not chew, break or crush this medicine. Do not drive or use any tools or machines if you feel that the ability is affected by this medicine. Before taking this medicine tell your doctor if you have ever had kidney disease, heart disease, or pancreas problems. Pregnant and breastfeeding women should consult their doctor before taking this medicine.
USES OF THALITERO
Used in combination with melphalan and prednisone to treat adults with a type of cancer called multiple myeloma
HOW THALITERO WORKS
It works by helping the bodys immune system and directly attacking the cancer. It works in a number of different ways by stopping the cancer cells developing, stopping the blood vessels growing in the cancer and by stimulating part of the immune system to attack the cancer cells.
DIRECTIONS FOR USE
Always take THALITERO exactly as prescribed by your doctor. Do not chew, break or crush this medicine.
SIDE EFFECTS OF THALITERO
SERIOUS
Serious skin reactions such as rashes with or without blisters, skin irritation, sores or swelling in the mouth, throat, eyes, nose and around the genitals, oedema and fever and flulike symptoms may occur
Numbness, tingling sensation, abnormal coordination or pain in your hands and feet
Sudden pain in chest or difficult breathing
Fever, sore throat, cough, mouth ulcers, chills or any other symptoms of infection
Feeling sweaty and breathless, feeling sick or vomiting, chest pain spreading to the arms, neck, jaw, back or stomach
COMMON
Constipation
Feeling dizzy
Nausea, vomiting
Sleepiness, feeling tired
Blurred vision
Depression, confusion, mood changes, anxiety
Shaking (tremor)
Decreased or abnormal sensation (dysaesthesia)
Swelling of hands and feet
Low blood cell counts
HOW TO MANAGE SIDE EFFECTS
Nausea and vomiting:
Keep try taking this medicine with, or just after, a meal or snack and stick to simple meals and do not eat rich or spicy food.
Skin redness:
Avoid hot showers or bath because the hot water can irritate the skin. Moisturizers can be used regular basis to soothe and hydrate the affected area.
Constipation:
Eat fiber rich foods such as fresh fruit, vegetables and cereals, and drink plenty of water. Exercise more regularly.
Contact Us
S N 309, Third Floor, Opp. Shreedhar Flora, Amar Jawan Circle, Nikol, Ahmedabad, Gujarat, 382350, India
Phone :+918045812301