10 mg Troyvec Injection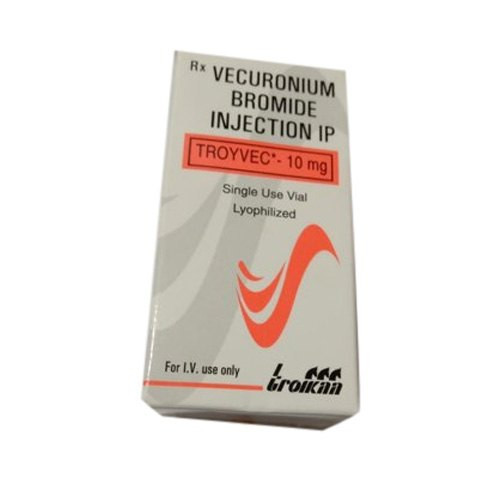 10 mg Troyvec Injection
Price And Quantity
Product Specifications
Other Types

Immunosuppressant
Product Description
Troyvec 10mg Injection is administered by a healthcare professional. You should not self-administer this medicine at home. The dose and duration will depend on what you are taking it for and how well it helps your symptoms.

The most common side effects of this medicine include injection site reactions such as pain, redness, and swelling. Long-term use of this medicine may cause skeletal muscle weakness or even paralysis. You should let your doctor know if the side effects bother you. Your doctor may be able to suggest ways of preventing or reducing the symptoms.

Before using it, to make sure it is safe for you, you should let your doctor know if you have any other medical conditions or disorders. You should also tell your doctor all the other medicines you are using or taking. Pregnant and breastfeeding women should consult their doctors before using this medicine.


USES OF TROYVEC INJECTION
Skeletal muscle relaxation during surgery


BENEFITS OF TROYVEC INJECTION
In Skeletal muscle relaxation during surgery
Troyvec 10mg Injection is used to relax muscles during anesthesia and surgical procedures. It works by blocking chemical messengers in the brain that are responsible for rigidity, inflammation or swelling. It effectively relieves muscle stiffness or spasm, thereby improving muscle movement.
It is given as an injection by a doctor or nurse and should not be self-administered. The dose and duration will be decided by the doctor depending on the condition you are being treated for. This will help you to go about your daily activities more easily and have a better, more active, quality of life.


SIDE EFFECTS OF TROYVEC INJECTION
Most side effects do not require any medical attention and disappear as your body adjusts to the medicine. Consult your doctor if they persist or if youre worried about them
Common side effects of Troyvec
Skin rash
Increased saliva production
Injection site reactions (pain, swelling, redness)
High blood pressure


HOW TO USE TROYVEC INJECTION
Your doctor or nurse will give you this medicine. Kindly do not self administer.


HOW TROYVEC INJECTION WORKS
Troyvec 10mg Injection relaxes the muscles by blocking the impulses from the nerves.
Contact Us
S N 309, Third Floor, Opp. Shreedhar Flora, Amar Jawan Circle, Nikol, Ahmedabad, Gujarat, 382350, India
Phone :+918045812301